Website Closing Down Sale
This is your last chance to buy Yoga and the Menstrual Cycle – Live in Harmony with Your Natural Rhythm in paperback. I have no plans to ever reprint it. The ebook will still be available on Amazon.
25% off: £15 instead of £20 + P&P
There's only a few copies left so the sale will end as soon as they have been sold – at the latest on 20 March 2023 (midnight UK time).
It's also your last chance to read my blogs and download my free ebook: Five Ways to an Easier, Nourishing and Restorative Period.
This website and email address will be closing on Monday 20 March 2023.
If you have any queries please contact me  before 20 March 2023.
A big thank you
A big thank you if you've bought my book. I really appreciate that you are open to using yoga to help with period pain, PMS and other menstrual cycle problems and/or to living your life in sync with the natural rhythms of your body, mind and heart.  Thank you for supporting me and my work.  The approach to yoga and life that I share with you changed my life so I hope it helped you too.
Your free gifts of a guided relaxation and guided meditation are moving to Soundcloud and I will be emailing all my customers with the private link.
If you enjoyed my book please leave a review here.
Thank you also to those who came to my workshops and everyone who encouraged me along the way.
Bring health, wellbeing, nurture and vitality, into your life: live in sync wth your menstrual cycle and practise yoga that supports you through its highs and lows.
We are generally taught about the biological changes of our menstrual cycle, but we are not informed about the full extent of the physical, mental and emotional shifts that it brings. Our culture largely views all things menstrual as unmentionable, troublesome or in need of fixing. Most yoga does not take into account how women change during their cycle. We are also expected to operate at the same level of busyness every day, so we often override what we really need at certain times of the month. The end result can be stress, exhaustion and even pain.
But there is a solution! With Yoga and the Menstrual Cycle, you can:

Find out
how the menstrual cycle really works and uncover its benefits for you.
Discover
menstrual cycle awareness by tracking how you change physically, mentally, emotionally – and spiritually if that interests you.
Explore
your findings, and adopt the self-care tips. to bring your whole life in tune with your natural ebbs and flows.
Enjoy
the simple 20-minute step-by-step yoga sequences specially created for the different phases of the cycle – whether you are a beginner or already practise yoga. There are 7 separate sequences with photos to show you how to do them.
Use
this mindful approach to help manage problems such as period pain and premenstrual syndrome.
Receive your free gift
FREE recordings with every book purchased – a relaxation, a yoga nidra and a meditation. Each one has been specially created to connect you to your cycle and its benefits – and they are high-quality, professionally sound-engineered recordings.
They are my gift to you to encourage and support you to easily get started – and keep you going – with practices that I recommend in the book.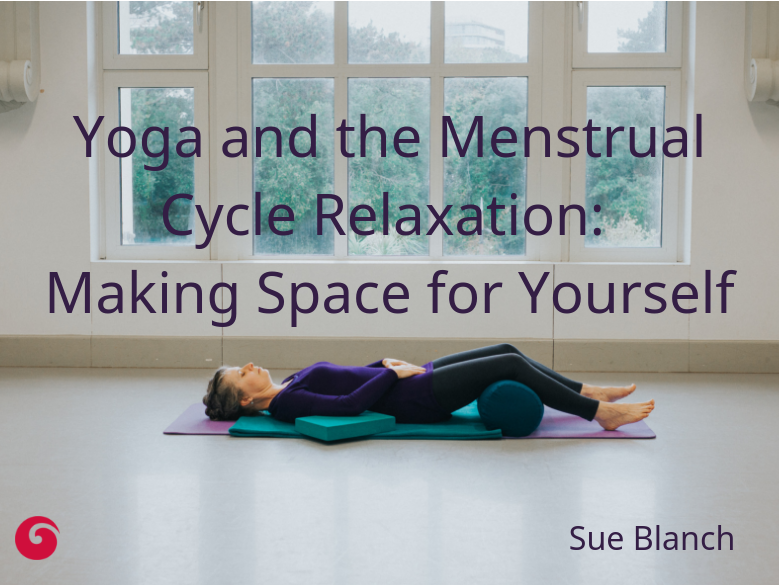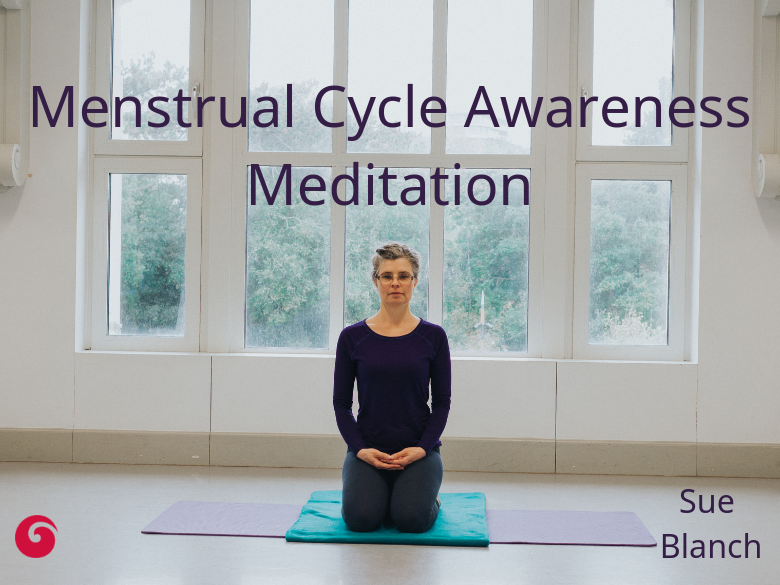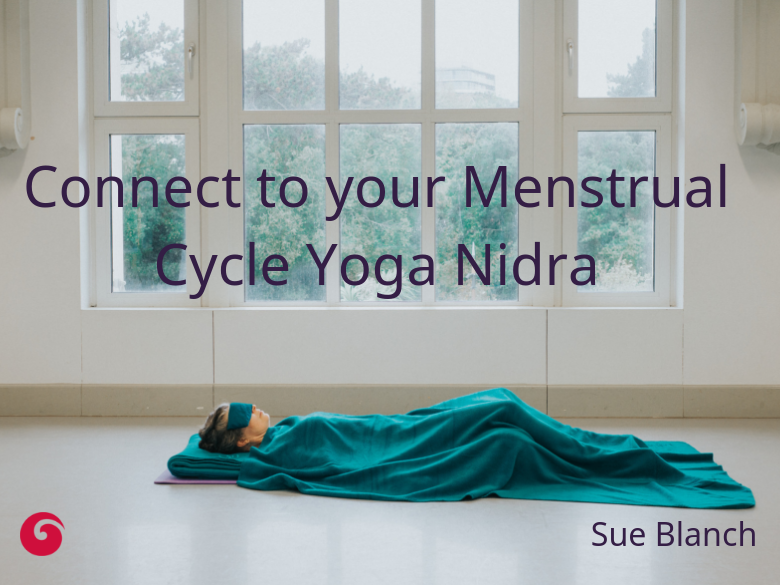 Protecting the environment
Taking care of the environment is really important to me so I have produced the paperback book in a way that minimises its environmental impact. This includes that the pages and cover are printed on 100% recycled paper. To compensate for the remaining impact, one tree will be planted for every copy printed, through fundraising in aid of TreeSisters, a grassroots network of women planting trees in the tropics.
For each eBook sold, I donate 10% of the royalities to my local Wildlife Trust here in the UK. They protect wildlife, make the local area wilder and give access to nature for people for their wellbeing.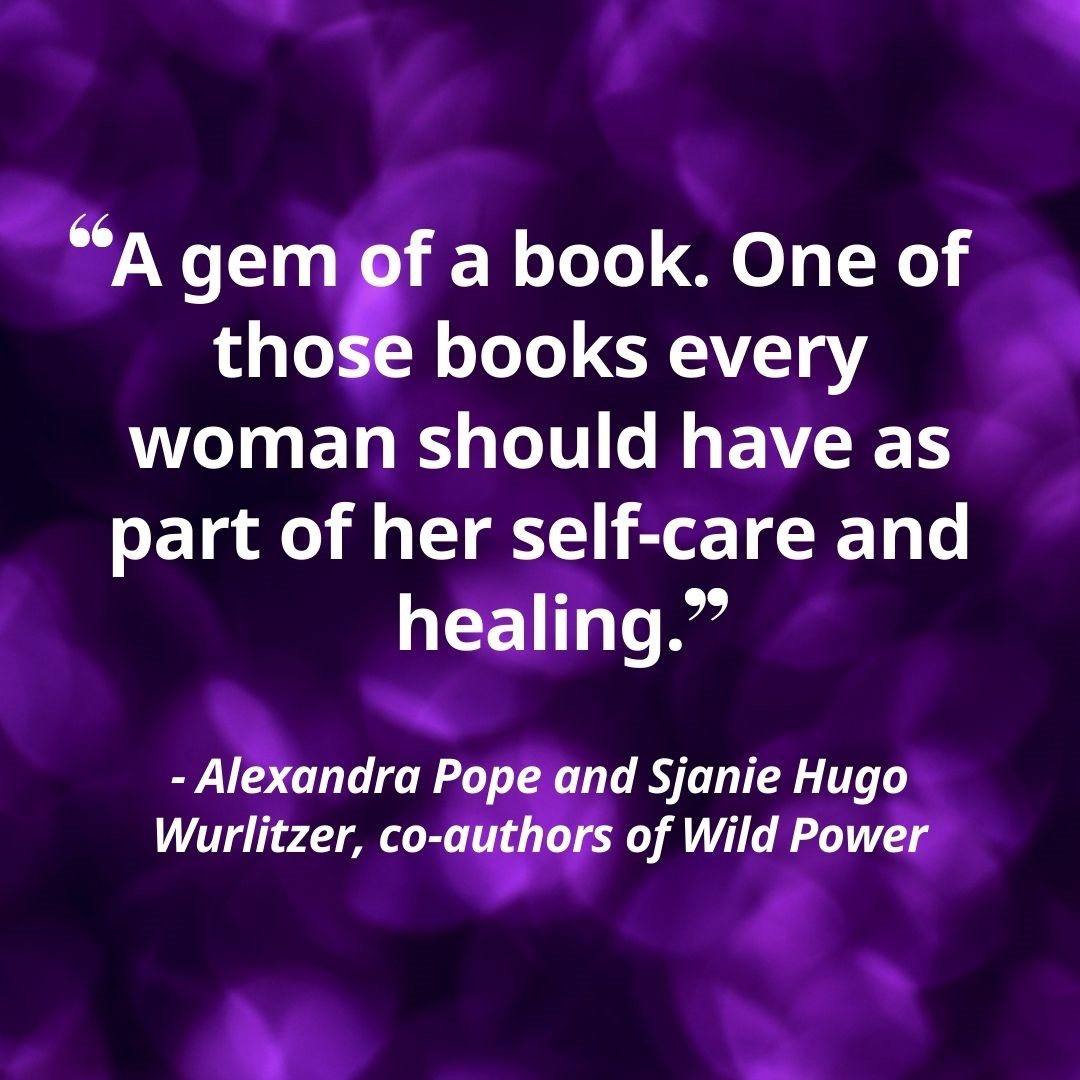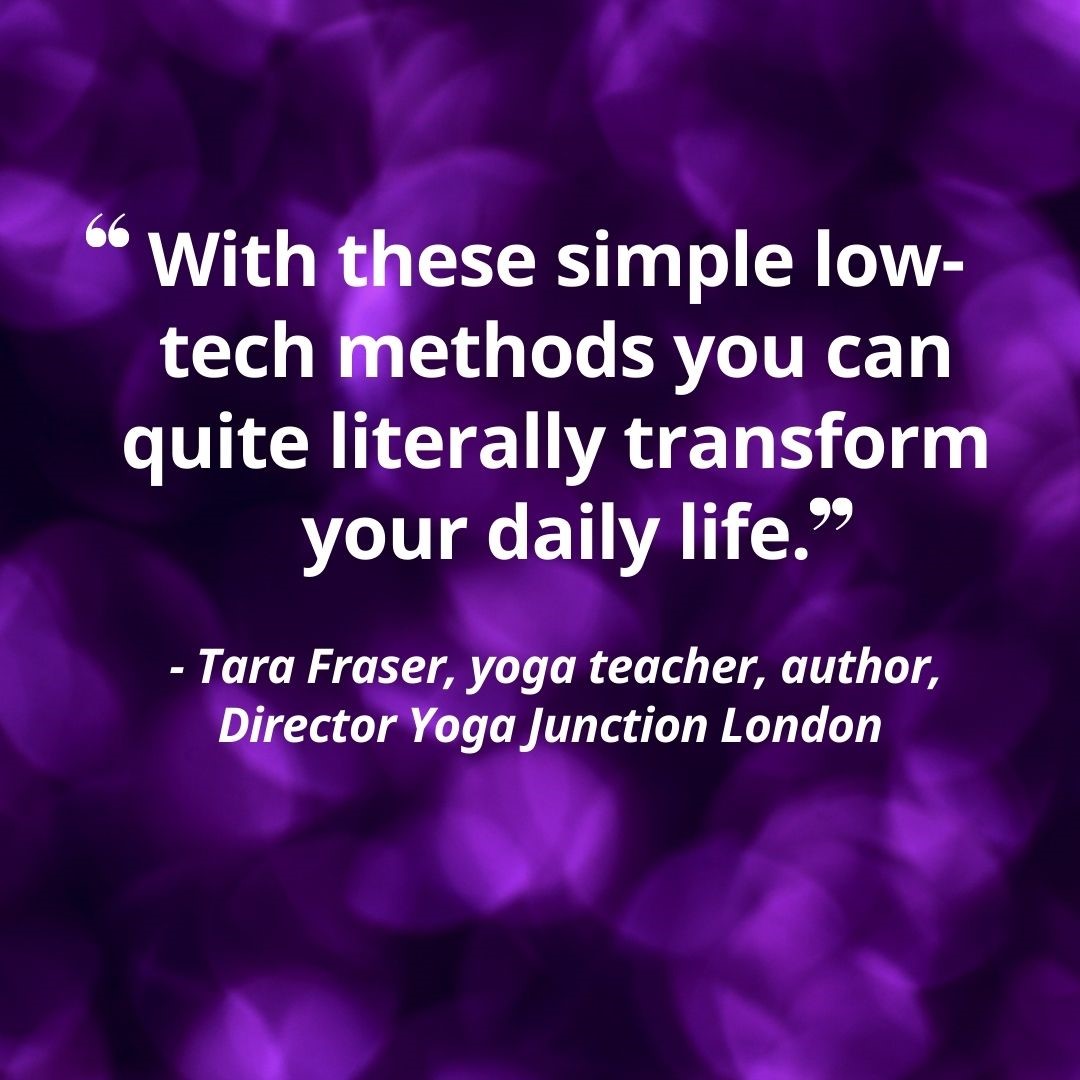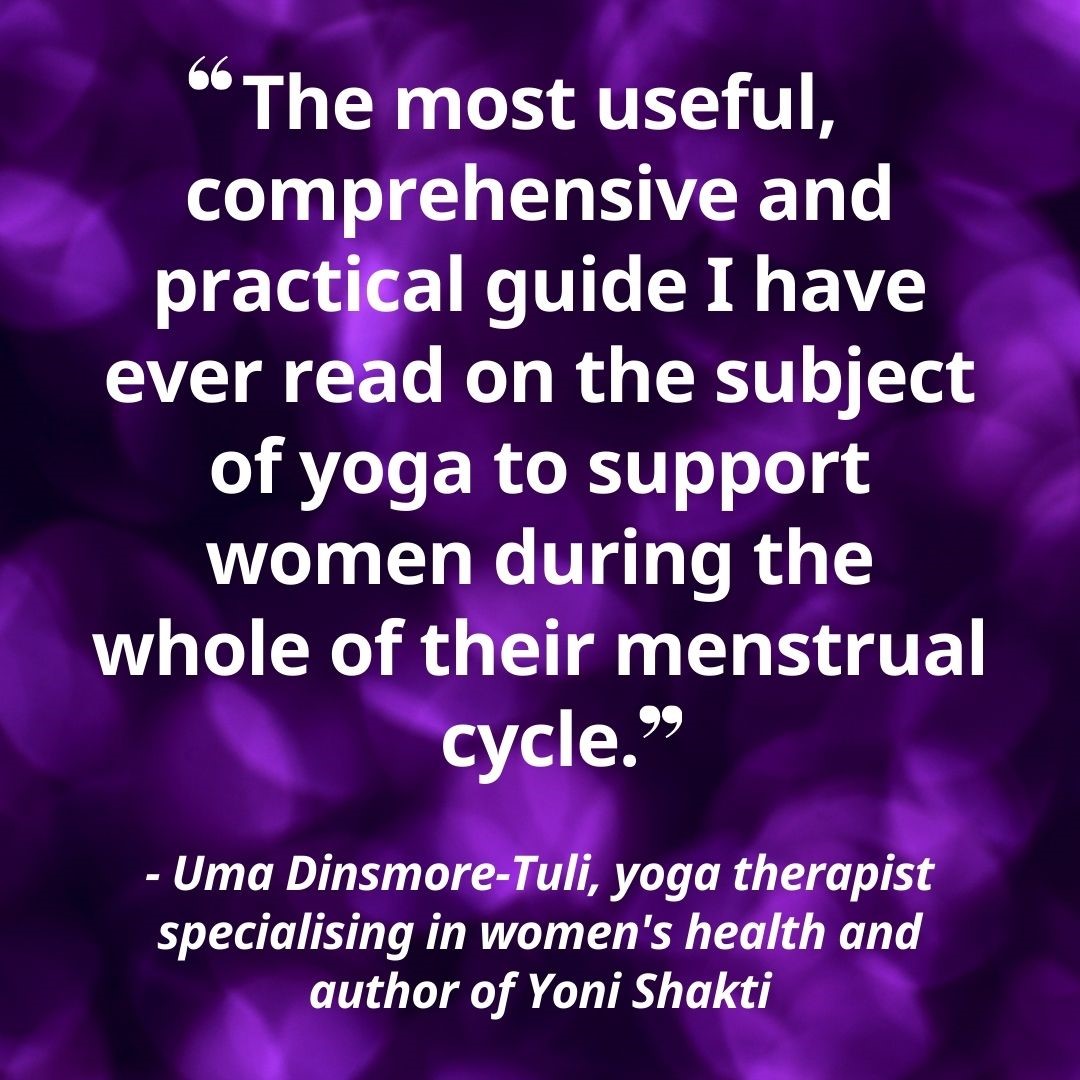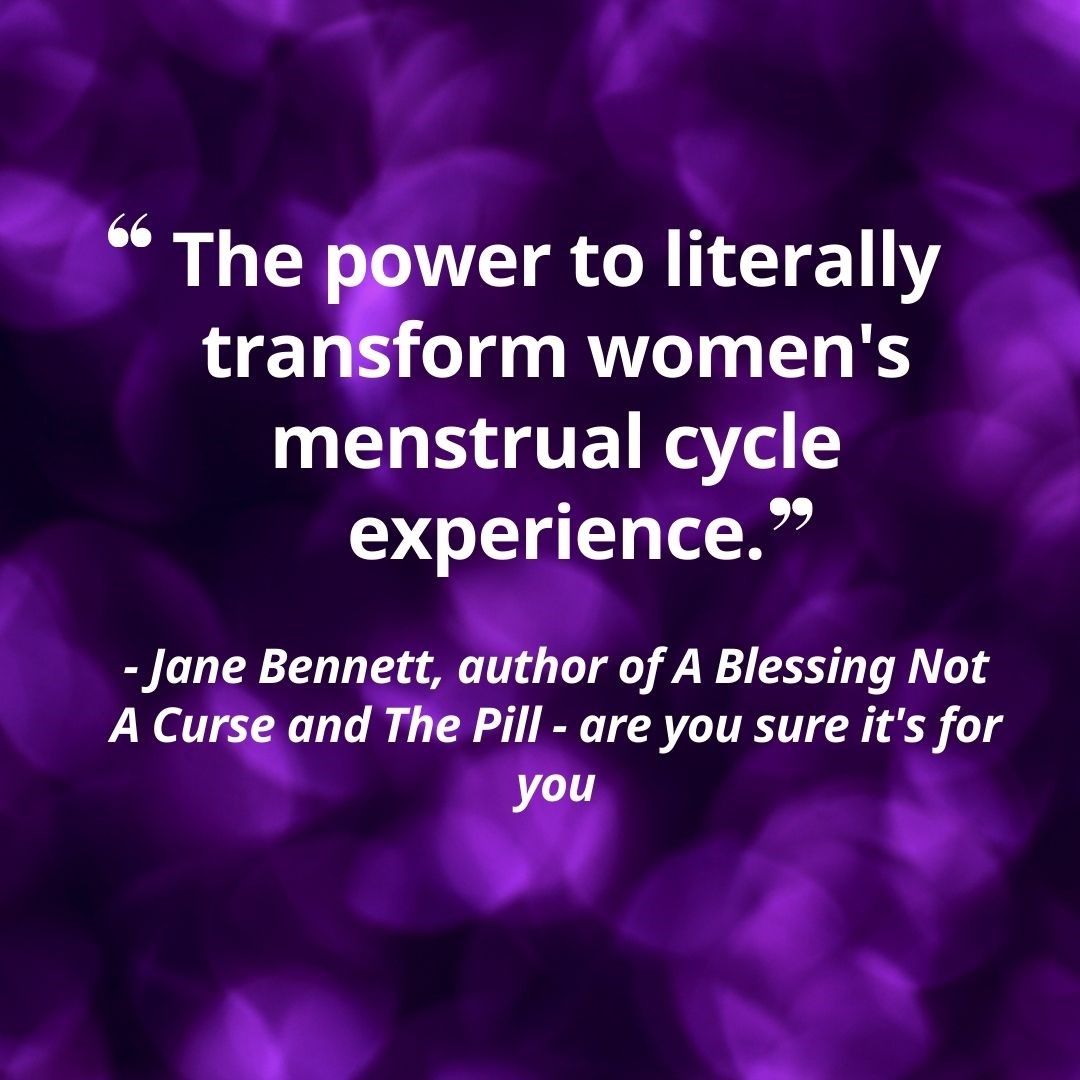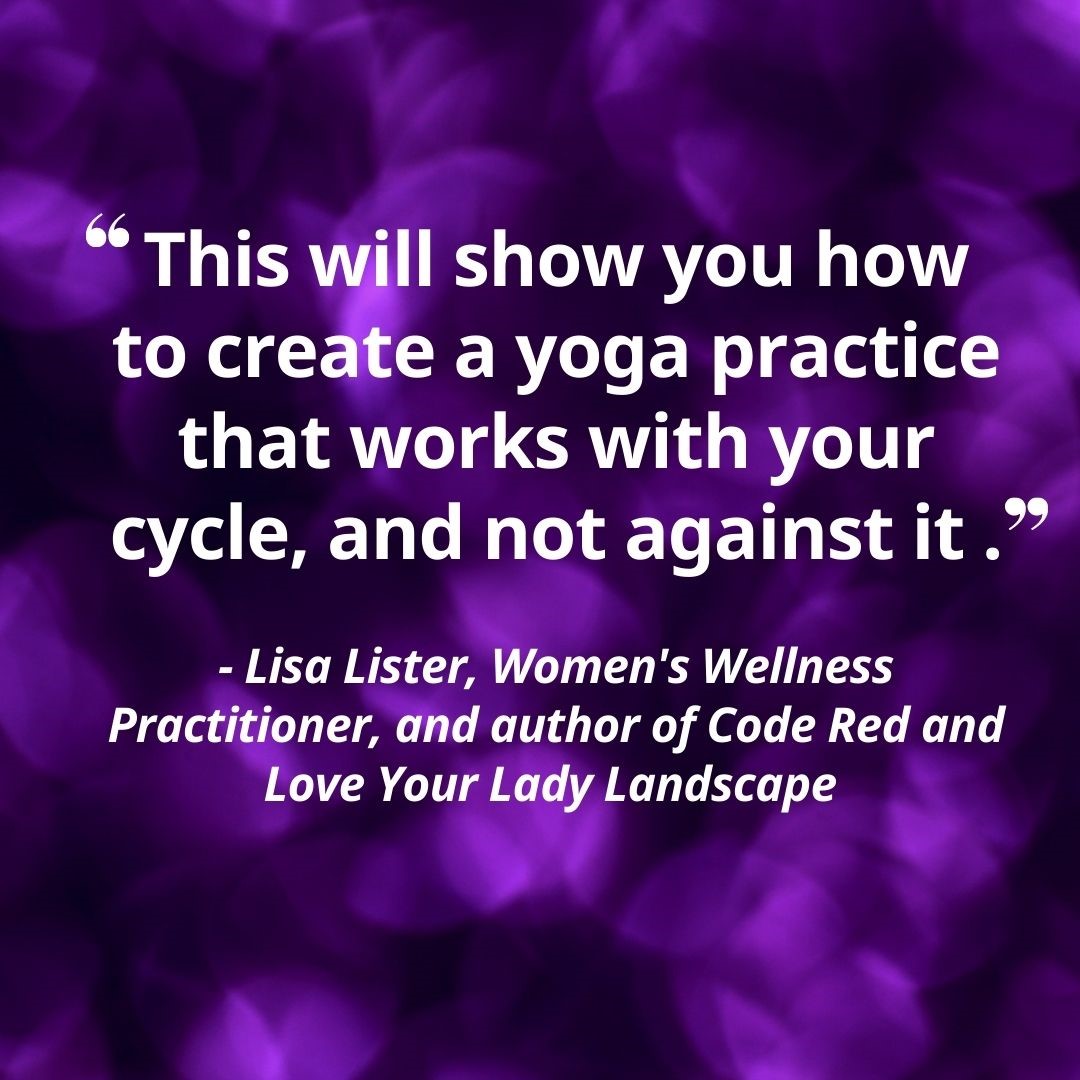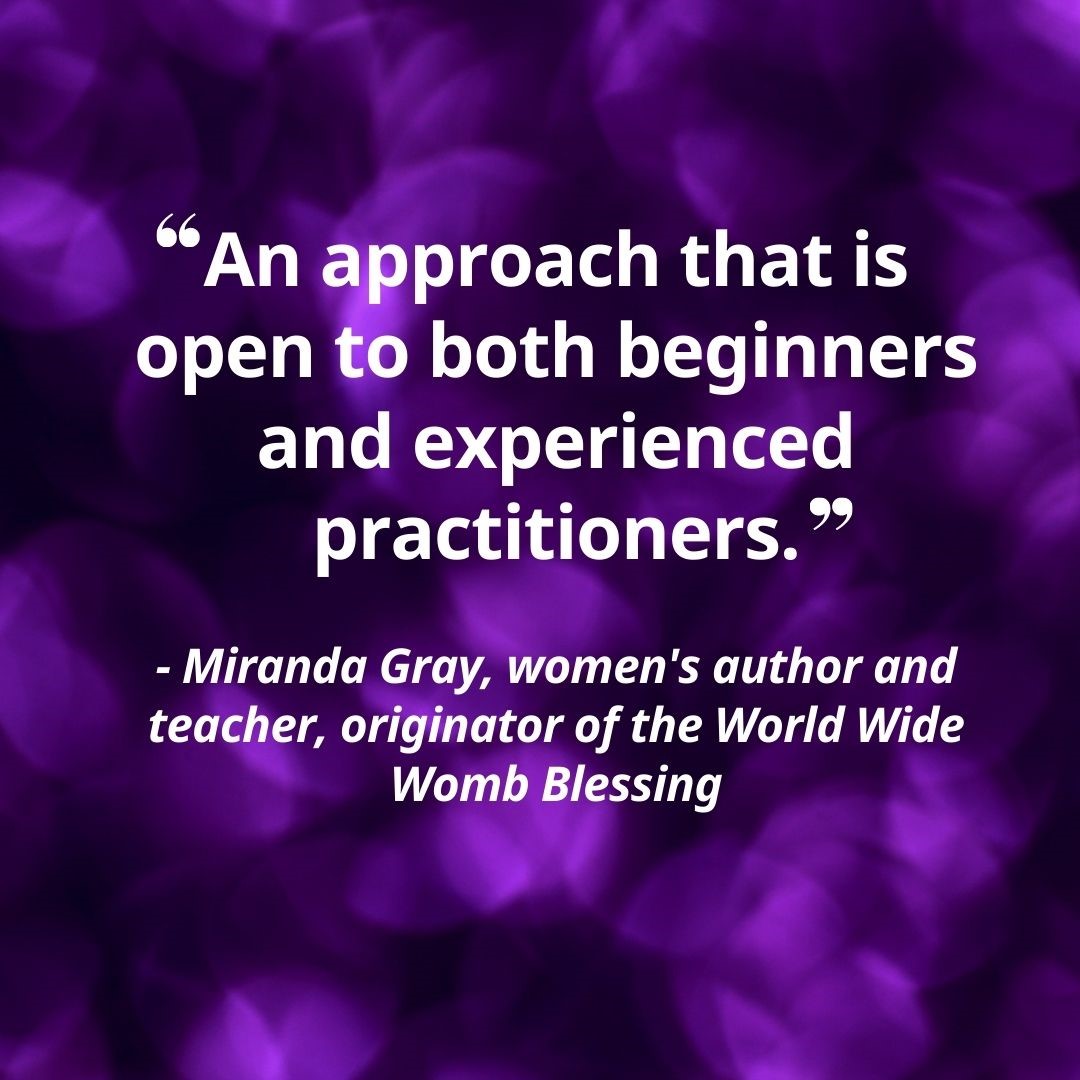 See what's in the contents
Read the Introduction
– the story of how this approach transformed my health and wellbeing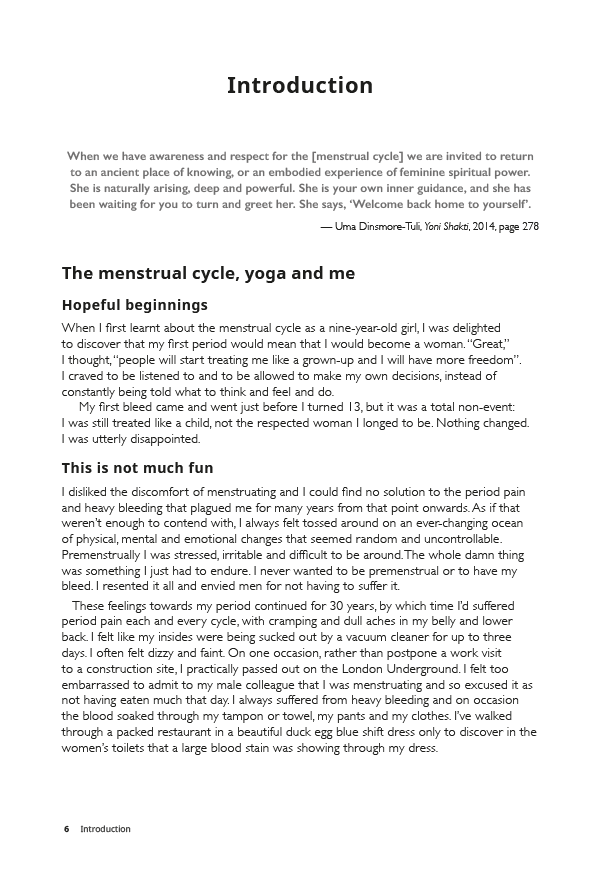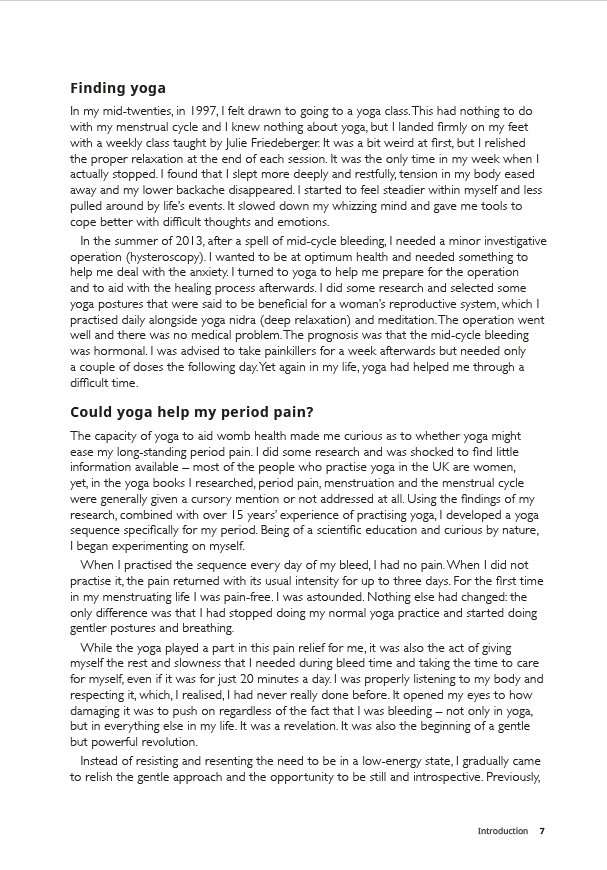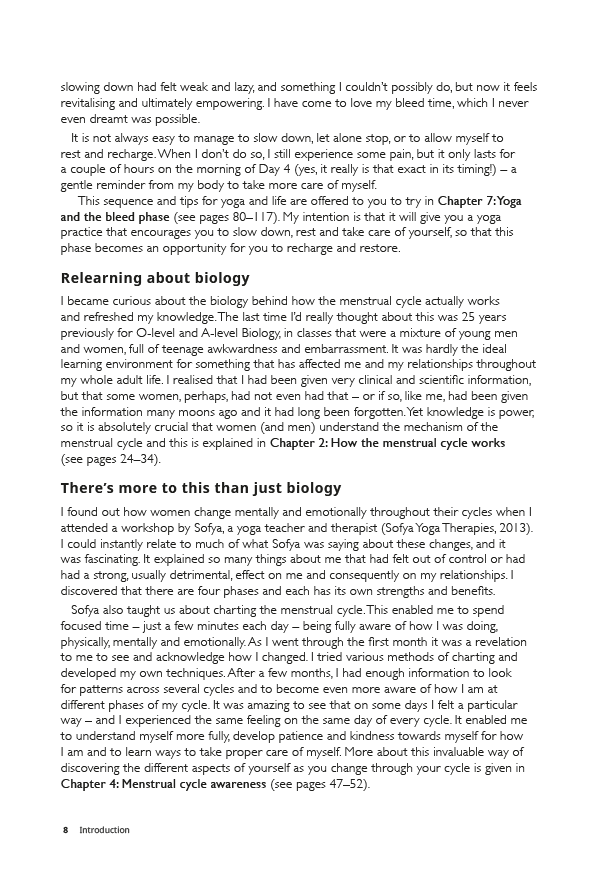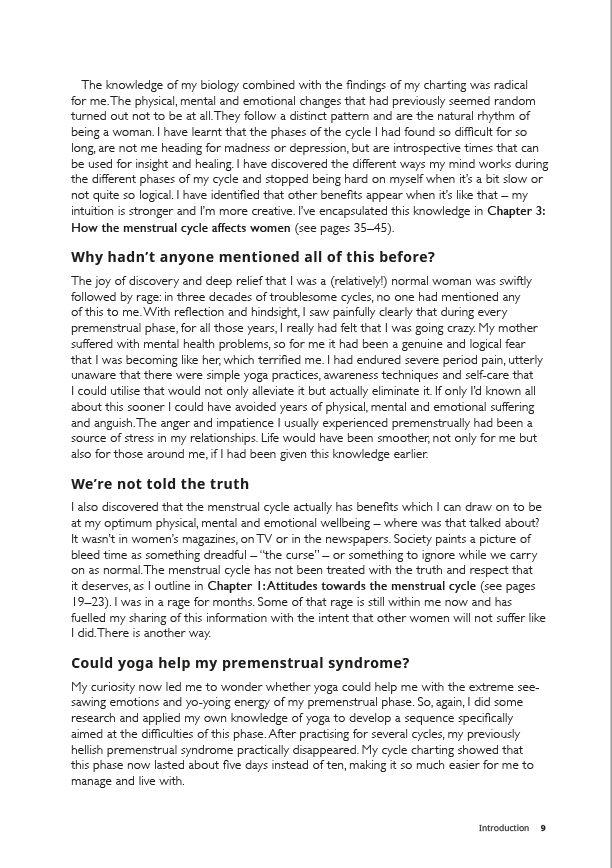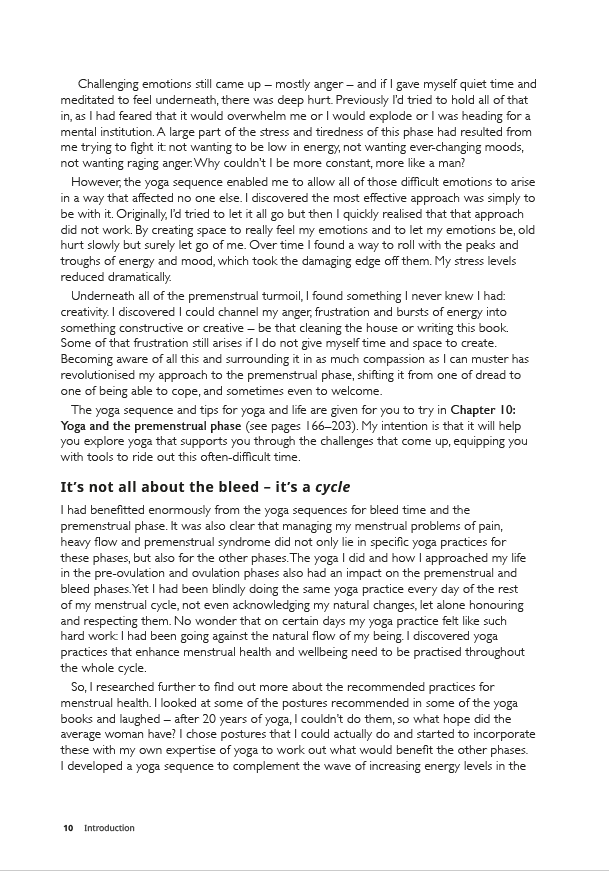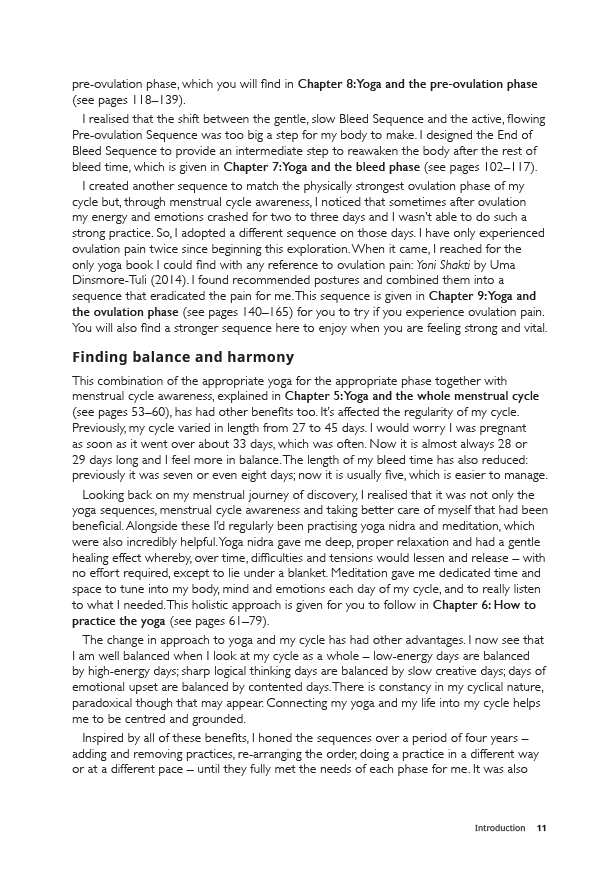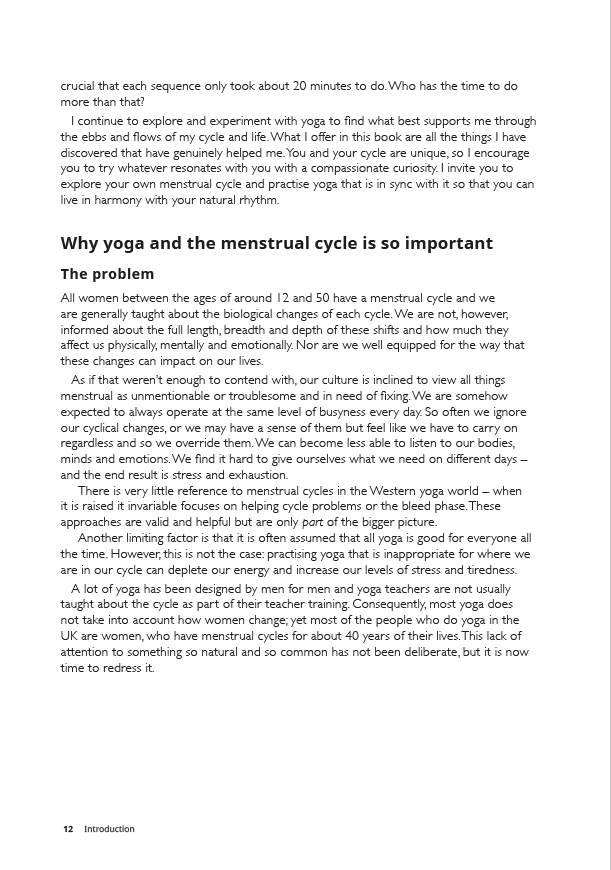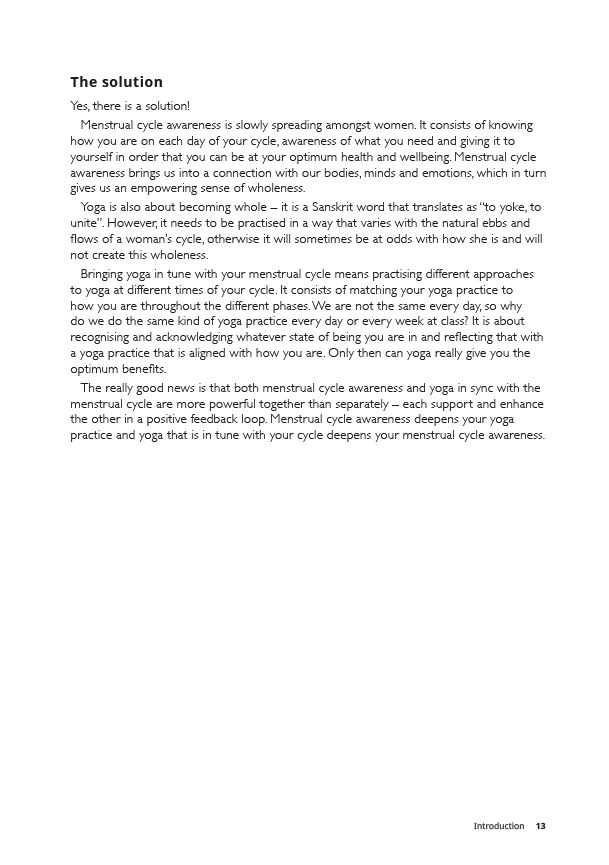 Frequently Asked Questions
How do I know this will help me?
I created this approach out of curiosity to see if it would help with the period pain that I had suffered for 30 years – and it did, I had no more pain. Inspired by this I also found that my previously hellish PMS practically disappeared.
When I teach workshops to women I see the light bulb go on inside them as they realise how important it is that every aspect of their being is influenced by a constantly changing cycle. There is a sense of relief and understanding as they discover that living and practising yoga in sync with this cycle brings greater health and wellbeing. 
What if I've never done yoga before?
That's perfectly okay. My book explains how to get started with yoga if you'd like to begin and all yoga practices are accompanied by clear, step-by-step instructions and photos.
I've done yoga for years so what will I get out of it?
If you're an experienced yoga practitioner you will discover new ways of practising in tune with your cycle. You'll probably find that this makes your yoga more effective as you are going with the natural flow of your body, mind, emotions and spirit.
If you're a yoga teacher, you'll learn what practices are best for different times of cycle, what should be avoided and why. This knowledge will make you better able to support your students.
I already practice menstrual cycle awareness so what difference will this make?
You'll already have experienced the benefits that menstrual cycle awareness can bring and my approach will expand and deepen this practice. You'll discover how to bring yoga in sync with your cycle and how this brings insights about how you change and clarity about what you need at different times of the cycle.
What if I'm on The Pill (or similar medication)?
The Pill alters your hormone levels so you wont have a natural menstrual cycle. You're unlikely to experience the changes to the extent that you would if you had a natural cycle. It may be more difficult to bring your life and yoga into sync with them as they're more subtle.
If you choose to come off The Pill in the future then this approach could help support you as your natural cycle comes back.